Learn how to keep your SketchUp model organized with a handy plugin.
Software Required: SketchUp, Layers Panel Plugin
---
I've begun to do a lot of architectural modeling in SketchUp lately, and I've found that the built-in layer tools weren't good enough to keep my workflow organized. The problem is that layers cannot be grouped together, for easy toggling of visibility. I am aware of using layers and the outliner to get a similar result, but I was looking for something different. That's where the extension Layers Panel comes into hand. It functions similar to how layers can be grouped in Photoshop, so it was a seamless transition for me.
It the time of writing this post, I'm modeling a 2 story house in SketchUp, and wanted to be able to group layers on the same floor, so I could toggle individual floors on and off for easy editing. In addition to floors, each component in the floor would be on it's own layer, again for maximum editability later on in the design process. The list below illustrates the naming convention I'm using for this model, but you can use any sort of number or letter abbreviations to keep your layers organized. Foundation and second floor follow a similar structure to the first floor layer structure.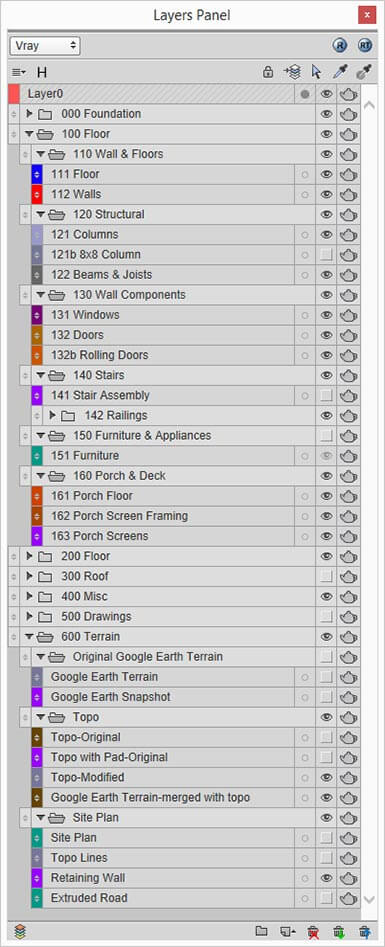 000 Foundation (refer to 100 floor for sub layers)
100 Floor

110 Walls & Floor
120 Structural

121 Columns
122 Beams & Joists

130 Wall Components
140 Stairs

141 Stair Assembly
142 Railings

150 Furniture
160 Porch & Deck

200 Floor (refer to 100 floor)
300 Floor
400 Misc

410 Chimney
420 Trim
430 Steps

500 Drawings (imported 2d cad drawings)

510 Plans
520 Elevations
530 Sections
540 Details

600 Terrain

Original Google Earth Terrain

Google Earth Terrain
Google Earth Snapshot

Topography

Topo-Original
Topo with Pad-Original
Topo-Modified
Google Earth Terrain-merged with topo

Site Plan

Site Plan
Topo Lines
Retaining Wall
Extruded Road
---
---