Week 1 in Italy – Arrival
I've been in Italy for a little more than a week, and it feels like I've been here for a month. The journey over here went smoothly enough. As expected, I didn't get any sleep on the way over, so it was basically a 40 hour day. My flight had a layover in Amsterdam, which appeared as a shimmer of lights as we flew in during early morning. The sun just broke through the rain clouds as we departed, producing some wonderful views as the flight to Florence began.
We passed over the Italian Alps halfway through the flight, and that was quite the sight. I'd been following the weather in Florence for the previous month and noticed it was usually between 40 and 50, and raining most of the time.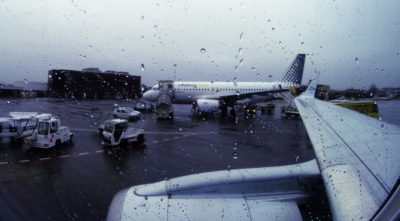 When we touched down, unsurprisingly, it was raining. Previous knowledge told me that customs was way more hyped-up than what I encountered at the airport in Italy. I stopped shortly for an officer's dog to sniff my baggage for just a second before they moved onto the next passenger. After a few minutes of waiting, we packed our stuff onto a bus and headed to the hotel where we'd be staying for 2 days until our apartments were ready. The hotel was really nice, since it was 4 stars. We had dinner there and then went to the first bit of our orientation.
I'd estimate that there are between four to five hundred students that are in the program through API (Academic Programs International), many coming from UMass Amherst. Sleeping for the first couple nights is tough because of the six hour jet lag. Almost everyone woke up between three and four in the morning for a few nights, and even now sometimes, a week later, I'll only be able to sleep through the night about half the time. The second night I went out to eat with a group of friends. This may seem simple enough, but when every street has more restaurants on it than you can count, and every menu is in Italian, finding a suitable one is more of a guessing game. Later that night we wandered up to the roof of the hotel. It was sort of blocked off, so we sort of snuck past and got some great views of the Duomo, and the city.
The next morning was move-in day. We pulled up outside our apartment early in the morning, and was led up to the third floor. This was a big moment, since I had no idea what the inside would look like, and whether it would be spacious or cramped. It was huge! Twenty foot ceiling, long hallways, and a nice sized kitchen. Moments later, we found out that we had been brought into the wrong apartment, so we quickly relocated to the one next door, which was even bigger, and had a much nicer kitchen. Our room had a prime view of the Piazza Santa Croce, since our building was situated on the perimeter of this square. After we unpacked our bags and settled in, it was time to go out and explore. It was sunny out, which is not very common during this time of year. Better take advantage of it when you can. Below are some shots from the next couple of days.
It still hasn't set in that I'm living and studying in another country for the semester. It feels like a mix between an extended vacation and a dream. Classes start next week (Monday – Thursday), so that will be a whole new adventure.
Stay tuned for next week's post. See all of my photos here: http://www.flickr.com/photos/ddbrown/sets/72157640640691544/.
---
---