Week 7 in Italy: Venice, Murano & Burano
This week in Italy: I visit Venice for a day, and then travel to the islands of Murano and Burano by ferry.
Venice
After getting up at 5 am for a 4 hour bus ride, we had finally arrived in Venice. This meant we were on the perimeter of the city, and headed towards a boat. All cars stop here, because there are no streets in the city, just canals and narrow walking paths. After a 30 minute cruise, we were dropped off not far from Piazza San Marco, the main public square in Venice. I had a mental image of what Venice looked like before I got here, but I never realized how tight and narrow some of the walkways were that snaked their way through a group of buildings, over a canal, and then back into another group of buildings.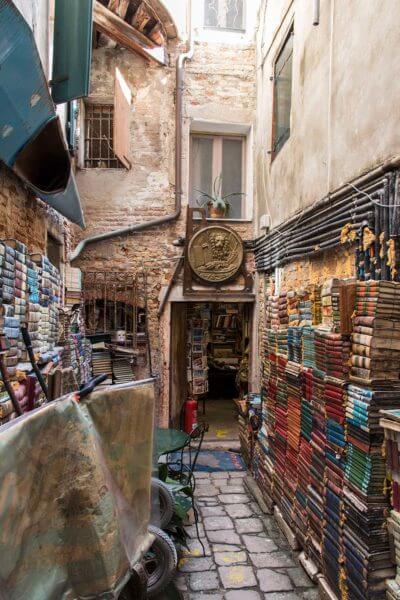 Every so often we'd come upon an open clearing or courtyard, and each one would be very different from the next. No two streets and canals were the same. Directly off of one street was a back entrance to a bookstore, and in the small courtyard before the door, both walls were stacked high with books. On another path that ran parallel to a canal, the front doors to every building were on the opposite side of the canal, and instead of having a path on the other side, there was a bridge for each door, very cool. After getting lunch from a street vender that had plates of fried seafood with a glass of wine, it was time for a gondola ride, since it's something you have to do at least once while you're there. The ride cost 80 euros for a half hour ride, but if you can get six people together, it's worth it. We boarded our boat on one of the main waterways, and were taken under the Rialto Bridge, and then off to some of the quieter canals. The weather was sunny and warm, but it must be miserable having this job when it's cold and raining. The whole experience was surreal. The bridges and buildings we passed by were hundreds of years old, the boat ride was eerily quiet, and the only the sound of the gondolier rowing behind us, people on the streets, and distant motor boats. After what felt like only a moment, our boat had pulled up to a pier, and our ride was over. We had a few more hours to explore the city on our own before we had to regroup with our program and catch a ferry back to the vehicle terminal. I wish our schedule left us more time on the island, since we were only in Venice for six hours.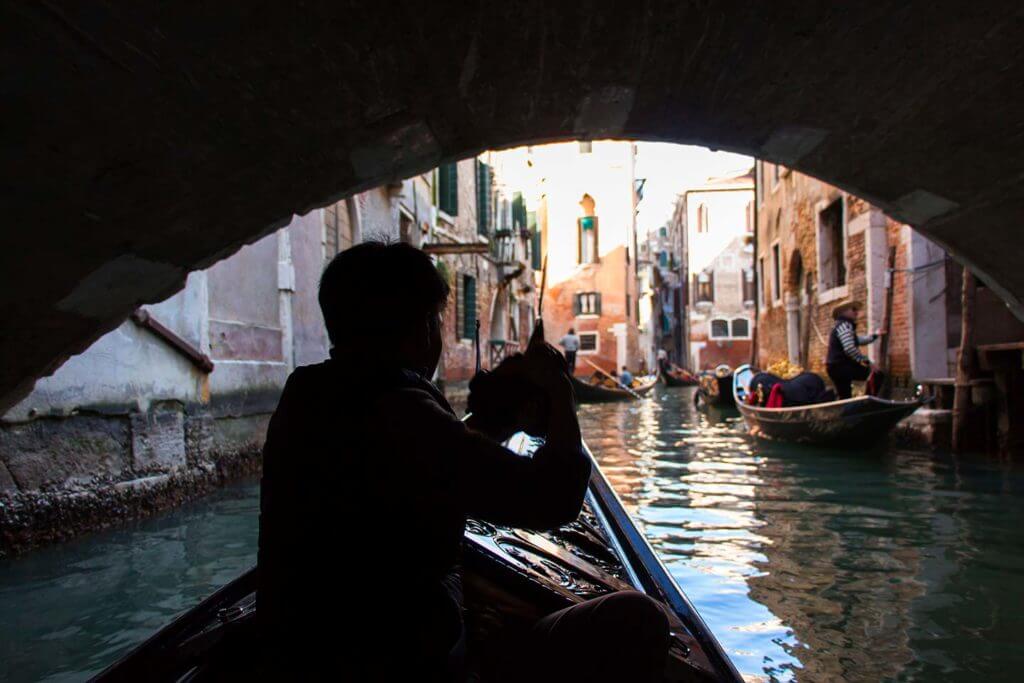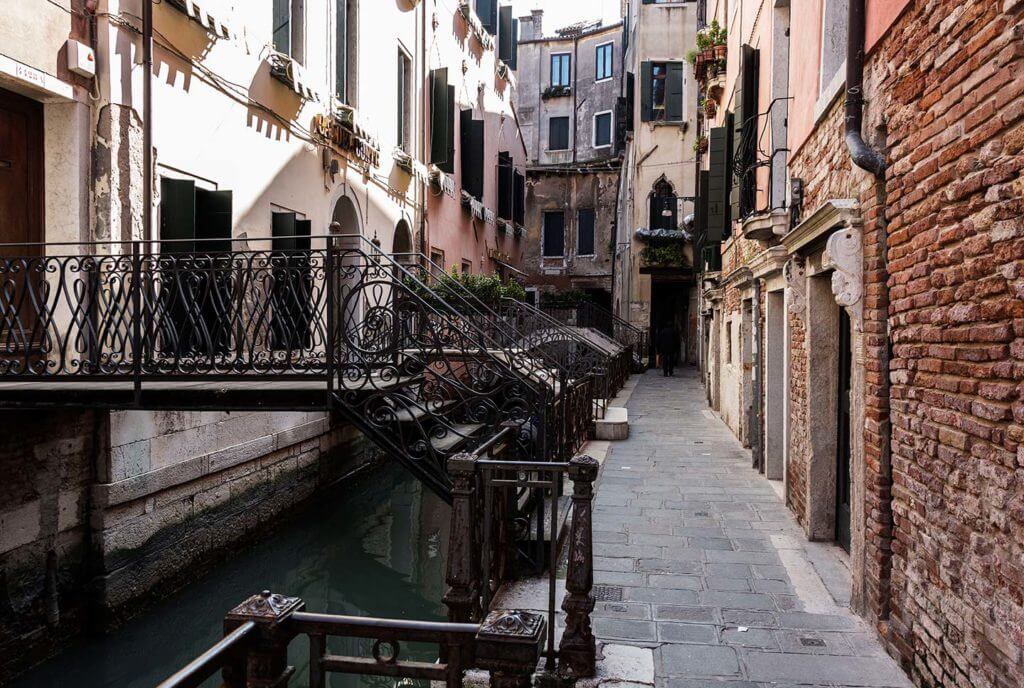 Murano
The next day was devoted to seeing two of the smaller islands around the Venetian Lagoon. The first stop was the island of Murano, which is known for its glass making factories. We only had two or so hours here, so I had to make the most of it. Right off the boat, we walked down a narrow corridor and entered a small building with a viewing area on one side and a glassmaker on the other side, ready to show us how glass blowing was done. It was amazing to see how one mass of molten glass could be shaped into a horse standing up on its hind legs in just a few minutes.
Right next to the demonstration building was the shop, filled from floor to ceiling with glass objects of all kinds. Animals, abstract shapes, plates and bowls, and much more. I bought two small candy wrapper-like pieces that were multicolored.
Just like in Venice, this island had no streets, just canals lined with pedestrian paths on either side, and boats moored up along the edge. Of all the paces I'd visited so far, this one seemed the most peaceful to me. It was the combination of the beautiful weather, glistening water, and the sounds of the ocean that made it so relaxing. After a quick bite to eat, we were back on the boat, and off to the next island.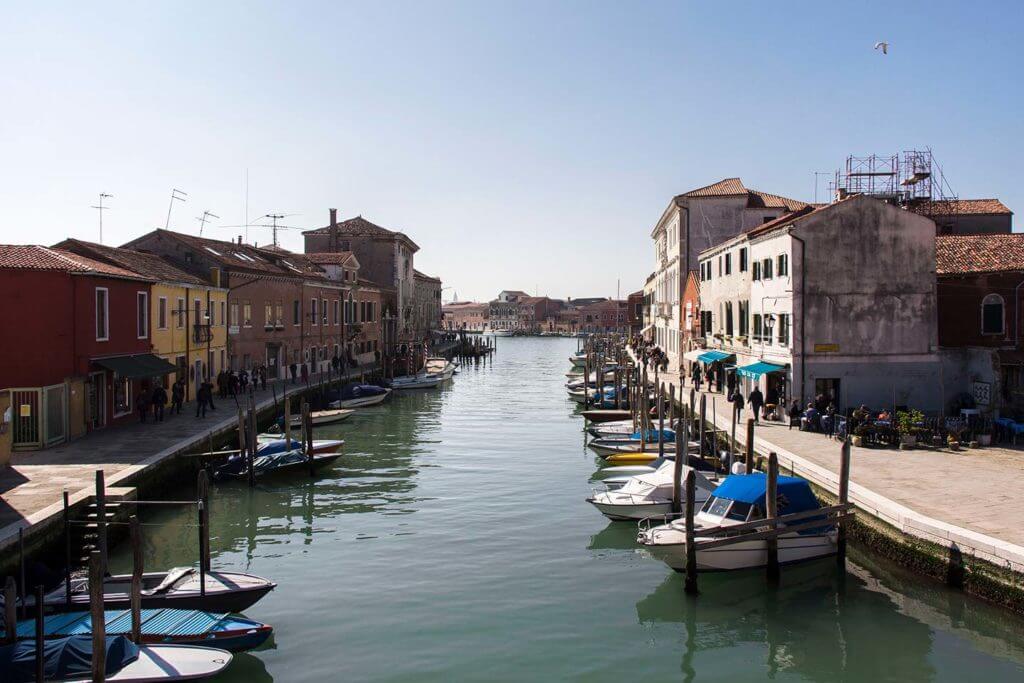 Burano
Burano is best known for its brightly colored houses and lace making. The island is actually made up of four smaller islands, connected with bridges and canals running between them. There was a lot more people roaming these streets than in Murano. While some friends and I were eating lunch on the edge of a pier, a poor-looking Italian woman slowly stumbled by, screaming and crying all the way up to the place where we had bought our food. The staff ignored her and she left around the corner. I had heard later that she was begging for food or money, and that this was a usual habit of hers. One thing Burano had that Murano lacked was green areas. Much of the perimeter lots had grass and trees, where as in Murano, it was much more industrial in the areas we were. All in all, this weekend involved a lot of traveling, but it was a good way to see these three areas in a short amount of time.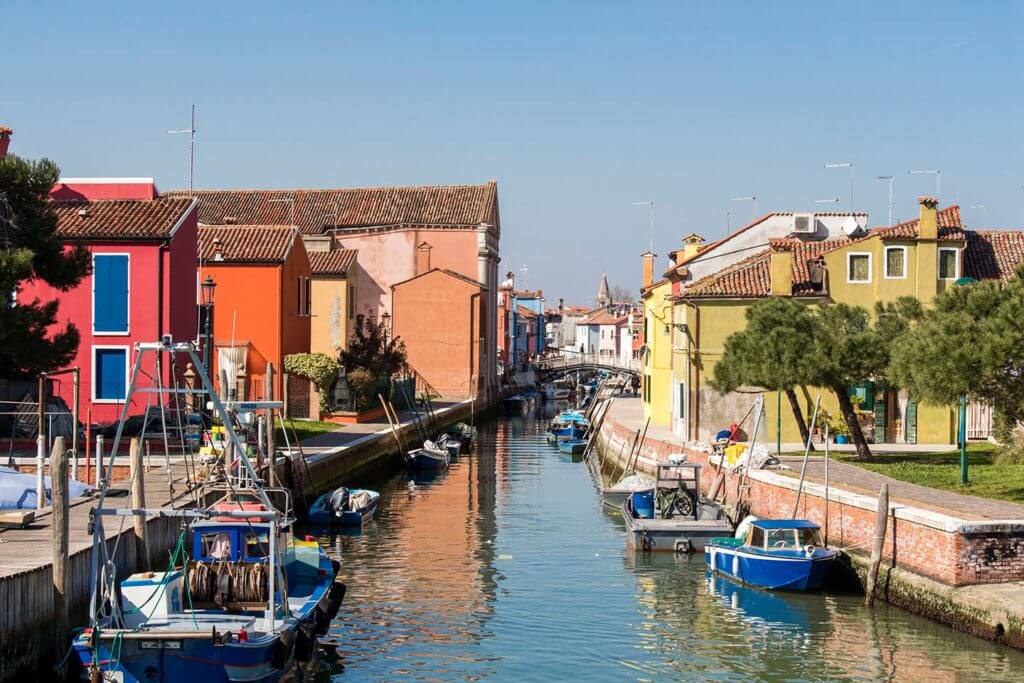 ---
---