Week 6 in Italy: Sunrise Hike, Antinori Cellars & Colle di Val D'elsa
This week in Italy: I get up at 6am to hike the hills outside of Florence, tour a very modern wine cellar in Bargino, and take an elevator up to see a panorama view of the town of Colle di Val D'elsa.
Sunrise Hike
Last week, our photography teacher gave us an assignment to shoot a sequence of landscape photos. Over a week had gone by and I hadn't had any time to get started. The weekend was approaching, and since I was going to be gone for all of it, it was time to get out there are shoot something. I got up at 6 am, and was heading across the river by 6:45, just about sunrise. The sky was partly overcast, but the sun still managed to cast shades of yellow and pink across the clouds.

I had mapped out a route that would take me up a narrow street that climbed up and over a hill, with buildings lining either side. The beginning was blocked off for cars, and I could see why because of how steep it was. Passing through here shortly after 7, it was still dead quite; everyone was still asleep. After exiting this secluded neighborhood, I crossed a busy road, and followed a perimeter road between a vineyard and a massive stone wall. I followed a walking trail that followed the wall through a forest of pine trees. What was remarkable about this spot was that it was the quietest place I've been since I arrived in Italy. Back in the city and even our apartment, you always here cars, people chatting, and the obnoxious police sirens. But up here, it was just the wind and the birds, something that made me remember about skiing back home, and how my favorite place was out of bounds in the woods, where the wind and animals were the only thing I'd hear, people were almost nonexistent.
The wind would pick up every now and then, and I'd notice a fine dust would blow loose from the trees, and form a yellow fog-like haze. It took me a minute, but then I remembered – pollen. Better stock up on tissue boxes now. After circling back around towards the river, a brief stop at Piazalle Michelangelo made for some awesome sunrise shots, and then it was time to get to class.
Antinori Cellars
Antinori Cellars is a winery in Bargino, Italy, halfway between Florence and Sianna. Designed by Archea Associates, it took seven years to construct and was completed in 2012. It was designed to have a minimal impact on the environment, so it is built entirely into the hillside, with a vineyard covering the whole roof. It doesn't stand out too much when see from the highway, but when you're up close, it is an amazing structure. Just driving through the sunken concrete passageways to get to the entrance is an adventure of its own. Once you reach the underground parking structure, a giant circular stair takes you up to the entrance of the main level. Since the entire building is designed to blend into the hillside, you never realize that you're walking on different parts of the roofs, since it's covered in grass or normal flooring materials. The interior is just as impressive, with many courtyards lit with circular openings in the green roof. The fermentation vats and wine storage chambers are located even further into the hillside, where the ground helps to maintain a constant temperature in the rooms. All in all, the Antinori Cellars is a place anyone should visit if they're in the area, whether you care about wine or not.
Colle di Val D'elsa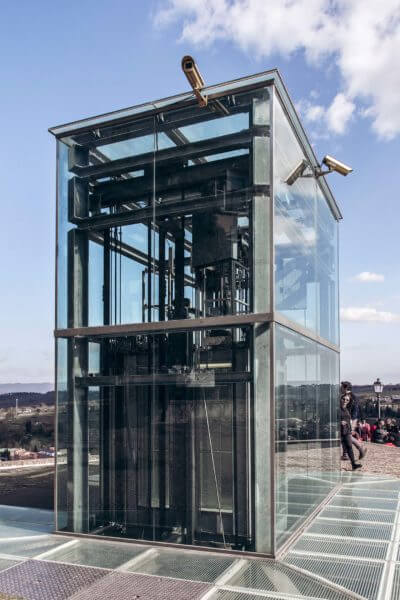 After our tour at the winery was over, we headed on to Colle di Val D'elsa; a small town about 10 miles northwest of Siena, sited in a river valley. This seemingly insignificant town produces 15% of the world's crystal glassware.
We stopped at a building called Monte dei Paschi by Giovannin Michelucci. Primarily occupied by a bank, this modern building is one of only a few in the area. A steel frame structure joins with the traditional stonework to form a dynamic structure that leaves room for public space at the base. Next, we took a quick break for lunch and then headed up to what would be one of most memorable spots of the trip. We had been walking around in the lower area of town, when we boarded an elevator up to the upper part of town. The doors opened to an open terrace that overlooked the entire valley. The main group hung out by the elevator while I walked in a ways to get some pictures of the zigzagging roads. The sunrise from up here must be incredible. After taking in some more views, we descended back down the elevator and boarded our bus. Missing class for today was definitely worth it.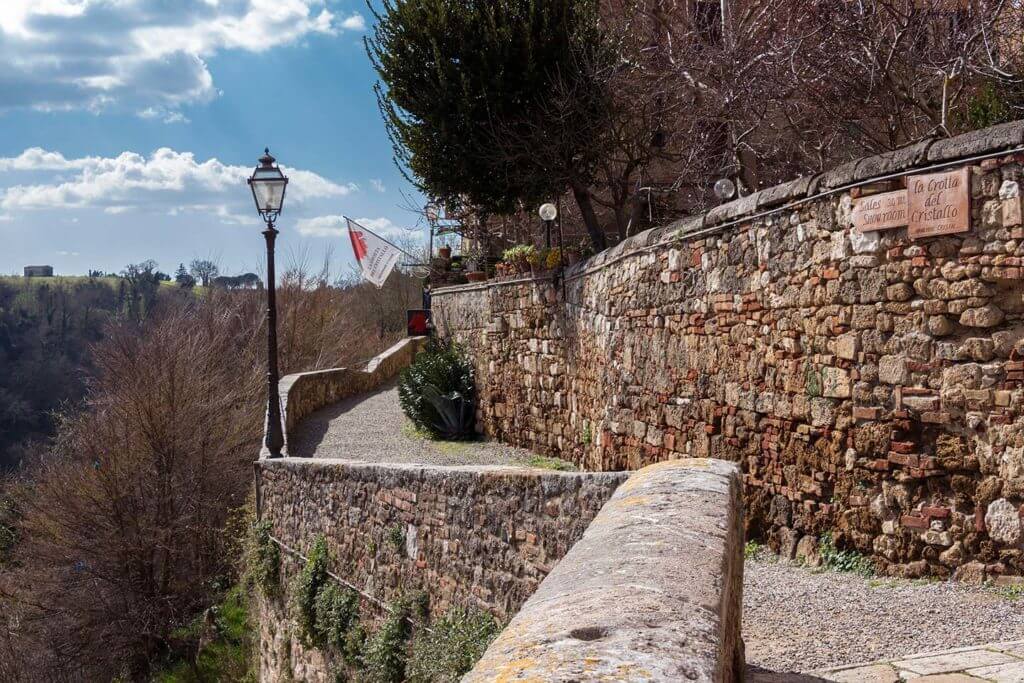 See all of my photos here: http://www.flickr.com/photos/ddbrown/sets/72157640640691544/.
---
---